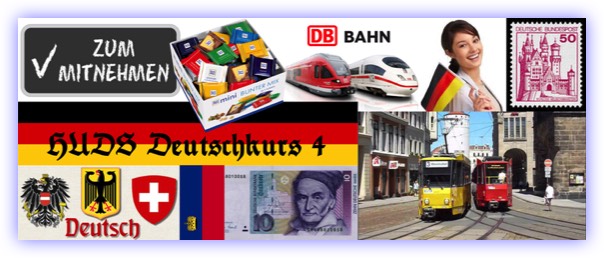 HUDS Akademie Deutschkurs 4 (Honors German 4)
Deutschkurs 4 Schüler und Schülerinnen Login
Be daring, be different, study German!
German IV is a two-semester course. To satisfy college requirements it is strongly recommended that students complete at least a three or four-year language sequence of the same language while in high school. College entrance and exit requirements vary. Honors German IV builds upon the advanced skills learned in HUDS Honors German III. This course includes advanced vocabulary, parts of speech, grammar, and pronunciation. It also focuses on essay writing, reading and listening comprehension, conversation, idioms, and advanced class discussions. An emphasis is placed on German culture, including literature and history. Various media types will be used to assist instruction. High School students who study German IV learn more in-depth advanced constructs of the language and equip themselves for AP and college study. Additionally, it will prepare students for standardized German tests for college credit or placement. Students, who are later in college or in the work place, may also combine the study of the German language with study of business, law, trade, science, engineering, technology, ministry, tourism, politics, or music to provide excellent career opportunities for themselves. After successful completion of Honors German IV, students are eligible for national recognition, programs of study in Germany, and AP level or college coursework.
Total enrollment for this course is limited to only 18 students!
This course is tuition-free.
The
Common European Framework of Reference for Languages
equivalent level for this course is
B2-C1
.
For the German 4 Curriculum Map, weekly agenda, and textbook list, please click the buttons below:
For further information about German 4, or course enrollment information, click the buttons below:
Class Meeting Time:
Tuesdays 1:45pm - 2:45pm.